2016 Event Update
We hope you are all doing well and getting back into the swing of things after two weeks of Holidays! We just wanted to send a note to thank everyone who has been a part of the Colleen Kelly 5k- whether you were a spectator, volunteer, donor or race participant. It has been a very special event for Kathy, Dennis, Caitlin and Tim as they celebrate the memory of Colleen. As you can imagine, the day is also bitter sweet. This year they were divided as to whether or not to hold the event. They have decided not to do it this year.
Over the past three years the Kelly's have have experienced the worst thing any of us can ever imagine. Through it all, people like you have come together to support them in any way you could. Without your kindness and generosity, the 5k never would have happened. Your contribution enabled the Kelly's to set up a Permanent Scholarship in Colleen's name to a graduating senior at Melrose High. Each year a student has been and will continue to be selected for this scholarship. The student chosen to receive the scholarship has to be a gentle soul with a love of english. Colleen hid so much knowledge in her quiet nature. She knew more about literature, poetry and movies than we ever knew existed. Her english professor at Framingham State said that Colleen challenged her in a way no other student ever had- wondering why it had to be this way and not that and having the keen ability to see another side to every story.
Other funds have gone to the Melrose Public Library, various school organizations and also to the Melrose Humane Society- which was especially near and dear to Colleen. I know the Kelly's will continue to support these causes in Colleen's memory.
Thank you again for all you have done! We truly appreciate it!
---
Here are some great video clips of the Colleen Kelly 5K:
Colleen Kelly 5K Video - 2013, courtesy of Anthony DiBenedtto:
Colleen Kelly 5K Video - 2014, courtesy of Anthony DiBenedtto & Surette:
---
Donations:
If you would like to make a donation, there are 2 ways to do this:

1) Please make checks payable to Colleen M. Kelly Fund and send to
4 Ingraham Terrace Swampscott, MA 01907.

2) One-click donation link below:
Thank you for your support.
- A Day Dedicated to the Memory of Colleen -
Colleen's gentle spirit will be celebrated with a
5K Run/Walk
.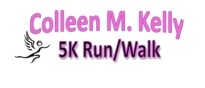 Colleen's Causes: